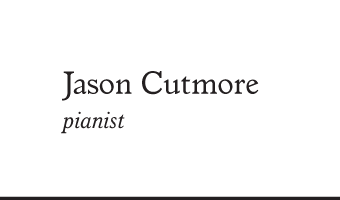 2016 & 2017 A Granados Celebration
Three Piano Recitals Commemorating the Centenary of Enrique Granados' Death and the 150th Anniversary of His Birth
Adam Kent, piano
Jason Cutmore, piano
Enrique Granados (1867-1916) was one of Spain's leading composers. His piano music weds lush romantic textures and harmonies to a keen awareness of his native culture and folklore. The artwork of Francisco Goya became a major preoccupation of Granados, who sought to translate his impressions of the painter's lavish canvasses into musical terms. Granados met with a tragic end, when the S.S. Sussex, which carried the composer and his wife across the English Channel during their return from the United States, was torpedoed by the Germans.
Long noted for their expertise in the Spanish repertoire as performers, educators, recording artists, and scholars, pianists Adam Kent and Jason Cutmore pay homage to Granados' fateful visit to the U.S. and celebrate the 150th anniversary of his birth in a series of concerts encompassing the composer's major solo and 4-hand piano works.
Program 1: "GRANADOS IN NEW YORK"
Goyescas (Los majos enamorados) Danza característica – El pelele – Danza lenta – Valses poéticos
Program 2:"GRANADOS, THE ROMANTIC"
Escenas rómanticas – Allegro de concierto – Seis piezas sobre cantos populares españoles – Azulejos (Albéniz/Granados)
Program 3: "GRANADOS A DOS"
12 Danzas españolas – En la aldea (piano 4-hands) – Dos marchas militares (piano 4-hands)
"This is an immensely attractive record, beautifully and resourcefully played and recorded…his playing here is often suggestive of Alicia de Larrocha." *****
– BBC Music Magazine
ADAM KENT
Adam Kent has performed in recital, as soloist with orchestra, and in chamber music throughout the United States, Italy, Spain, Switzerland, and South America. A winner of the American Pianists Association Fellowship and Simone Belsky Music Awards, Dr. Kent also received top prizes in the Thomas Richner, the Juilliard Concerto, and the Kosciuszko Foundation Chopin Competitions, and is a recipient of the Arthur Rubinstein Prize and the Harold Bauer Award. Dr. Kent made his New York recital debut at Weill Recital Hall in 1989 and has been featured on radio stations WQXR, WNYC, and WFUV.
Spanish music has been a specialty of Dr. Kent's, whose years of devotion to the music of Spain have led to his critically-acclaimed recording of Ernesto Halffter's complete piano music on Bridge Records as well as the Spanish government's Orden al Mérito Civil, awarded at the directive of King Juan Carlos I at a special ceremony in Carnegie Hall in 2011. His writings on this subject have been published in Clavier and Music in Art journals and in a Spanish-language monograph on Xavier Montsalvatge.
Adam Kent holds B.M. and M.M. degrees from Manhattan School of Music and a D.M.A. from The Julliard School. Currently, Dr. Kent serves on the faculties of the Manhattan School of Music Precollege Division, Brooklyn College, and New Jersey City University. Summers find Dr. Kent serving as Director of Cultural Outreach for the Burgos International Music Festival in Spain and teaching and performing at the Summit Music Festival in New York.
"Cutmore performed this most evocative music with flair. His colorful playing proved vibrant and exciting, particularly the famous Ritual Fire Dance… Cutmore's sense of Spanish colors and rhythms is compelling."
-The Times Argus, Vermont
JASON CUTMORE
Jason Cutmore has performed piano recitals and collaborative concerts throughout North America, Europe and India. In 2005, he made his Chicago recital debut in the Dame Myra Hess Memorial Concerts with an all-Liszt programme that was heard live on WFMT radio and broadcast on television. Since then he has returned twice to the Hess series, and has performed in Canada's Elora, Music Niagara, and Colours of Music festivals, Los Angeles' "Sundays Live" series, Calgary's "Celebrity Series," as well as at venues in New York City, San Francisco, Toronto, Cleveland, Cincinnati, Edmonton, and elsewhere in North America. His concert performances, and an ardent interest in foreign travel, have frequently taken him abroad to Germany, Hungary, Lithuania, and India, including appearances at the National Centre for the Performing Arts in Bombay, and the Franz Liszt Museum in Budapest.
In 2008, Mr. Cutmore's debut commercial CD, an album of piano music by Spanish composer Manuel de Falla on Centaur Records, was released to critical acclaim. Gramophone magazine praised his "warm, generous sonority and natural feel for the idiom" and raved that "this pianist's gorgeously variegated legato makes a sexy and inviting recital."
Currently based in a New York City suburb, Jason Cutmore is originally from Edmonton, Canada, and serves as the Executive and Artistic Director of Alberta Pianofest.
Booking
Marilyn Gilbert Artists Management
http://www.mgam.com/
705 King Street West, Suite 1713
Toronto, ON. Canada M5V 2W8
TEL: 416.534.4993
FAX: 416.604.5330
CELL: 647.465.8004
E-MAIL: Marilyn@mgam.com