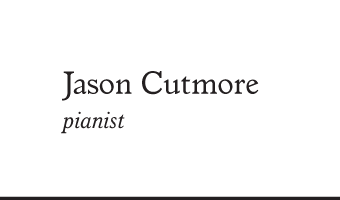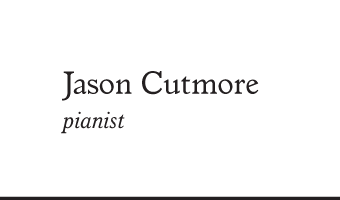 About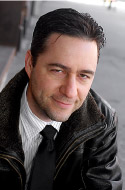 Festival director and concert artist Jason Cutmore has performed piano recitals and collaborative concerts throughout North America, Europe and India, winning praise for his "brilliant technical finesse" and "deep emotional penetration" (Offenbach-Post, Germany), and for the "charismatic generosity of communication in his music." (The Telegraph, Calcutta, India).
In 2008, Mr. Cutmore's debut commercial CD, an album of piano music by Spanish composer Manuel de Falla on Centaur Records, was released to critical acclaim. Gramophone magazine praised his "warm, generous sonority and natural feel for the idiom" and raved that "this pianist's gorgeously variegated legato makes a sexy and inviting recital." Mr. Cutmore's interpretations of the Spanish piano repertory have gained notice in concert as well. The Times Argus in Vermont has written that "Cutmore performed this most evocative music with flair. His colorful playing proved vibrant and exciting."
Mr. Cutmore made his Chicago recital debut in the Dame Myra Hess Memorial Concerts in 2005 with an all-Liszt programme that was broadcast live on WFMT radio, and shown on Chicago Cable TV 25. Since then he has returned twice to the Hess series, and has performed in Canada's Elora, Music Niagara, and Colours of Music festivals, Los Angeles' Sundays Live series, Calgary's Celebrity Series, and at venues in New York City, San Francisco, Toronto, Cleveland, Cincinnati, Edmonton and elsewhere across North America.
His concert performances, and an ardent interest in foreign travel, have frequently taken him abroad to Germany, Hungary, Lithuania, and India. These performances have included appearances at the National Centre for the Performing Arts (Mumbai), the Alliance Francaise (Bangalore), and the India International Centre (New Delhi), as well as at the Franz Liszt Museum in Budapest, and Bartok Hall in Szombathely, Hungary.
Mr. Cutmore's avid interest in chamber music has led to many collaborations, both traditional and unusual, including past partnerships with Lithuanian pianist Guoda Gedvilaite, and with concert organist Daniel Sullivan. One of Mr. Cutmore's current projects is a collaboration with narrator (and former CBC radio personality) Rick Phillips, in works for solo piano and narrator by composers such as Debussy, Roussel, Poulenc, Prokofiev, Saint-Saens and others, in live concert performances for children. Mr. Cutmore also partners with Paris-based cellist Antoine Pierlot, performing works for cello and piano, and other chamber music combinations.
Mr. Cutmore's major teachers have included Stephanie Brown, Robert Shannon, and Michael Massey. Currently based in New York City, Jason Cutmore is originally from Edmonton, Canada, and serves as the Director of Alberta Pianofest. He also serves on the faculties of two historic community music schools in Manhattan, the Third Street Music School Settlement, and Turtle Bay Music School.
what they're saying:
"Pianist Jason Cutmore proves as splendid an interpreter as he is a programme-builder and booklet-annotator. His warm, generous sonority and natural feel for the [Spanish] idiom inform each selection."
– Gramophone Magazine, UK
"Jason Cutmore's idiomatic musicianship and excellent technique consistently delight… his artistic excellence here ought not go unnoticed. A first-rate release."
– ClassicsToday.com
"A top caliber pianist who deserves to be known internationally."
– Howard Garrett, Montgomery Chamber Music Series
"Cutmore possesses a charismatic generosity of communication in his music… masterly technique and sensitive interpretation…"
– The Telegraph, India
"Jason Cutmore comes across as… a powerful virtuoso, clearly in love with Spanish music and sincerely sharing this love with us. One gem after another is played brilliantly. This disc should be sold with the "Repeat All" button attached."
– Music Web International, UK
"The large audience was attentive and appreciative to the final standing ovation.  Cutmore's playing was compelling and harmonically poetic… [his] technique was flawless… and his sensitivity to the inner voices of the music was both personal and controlled."
– The Times Herald-Record, NY
"Cutmore played Schubert's Sonata in B-flat… without any pretension.  He managed to create depth without dragging the music down…  In his deep emotional penetration, he does not lose sight of structure."
– Offenbach-Post, Germany
"He has an ease with the music that can make it pensive or dreamy without giving into an overuse of rubato, keeping it moving, yet not rushing it either. He breezes through the more virtuosic passages in the "Ritual Fire Dance" and the "Fantasía Baetica," with a very capable technique that can make an impression… which also makes sure notes are clear without sacrificing phrasing and shaping."
– AllMusic.com
"He is an amazing talent, performing with great technical proficiency.  Our very knowledgeable audience gave him a standing ovation midway through the recital!  We would welcome Mr. Cutmore's return to the Art Complex Museum anytime."
– Charles Weyerhaeuser, Art Complex Museum, MA