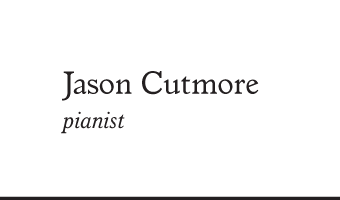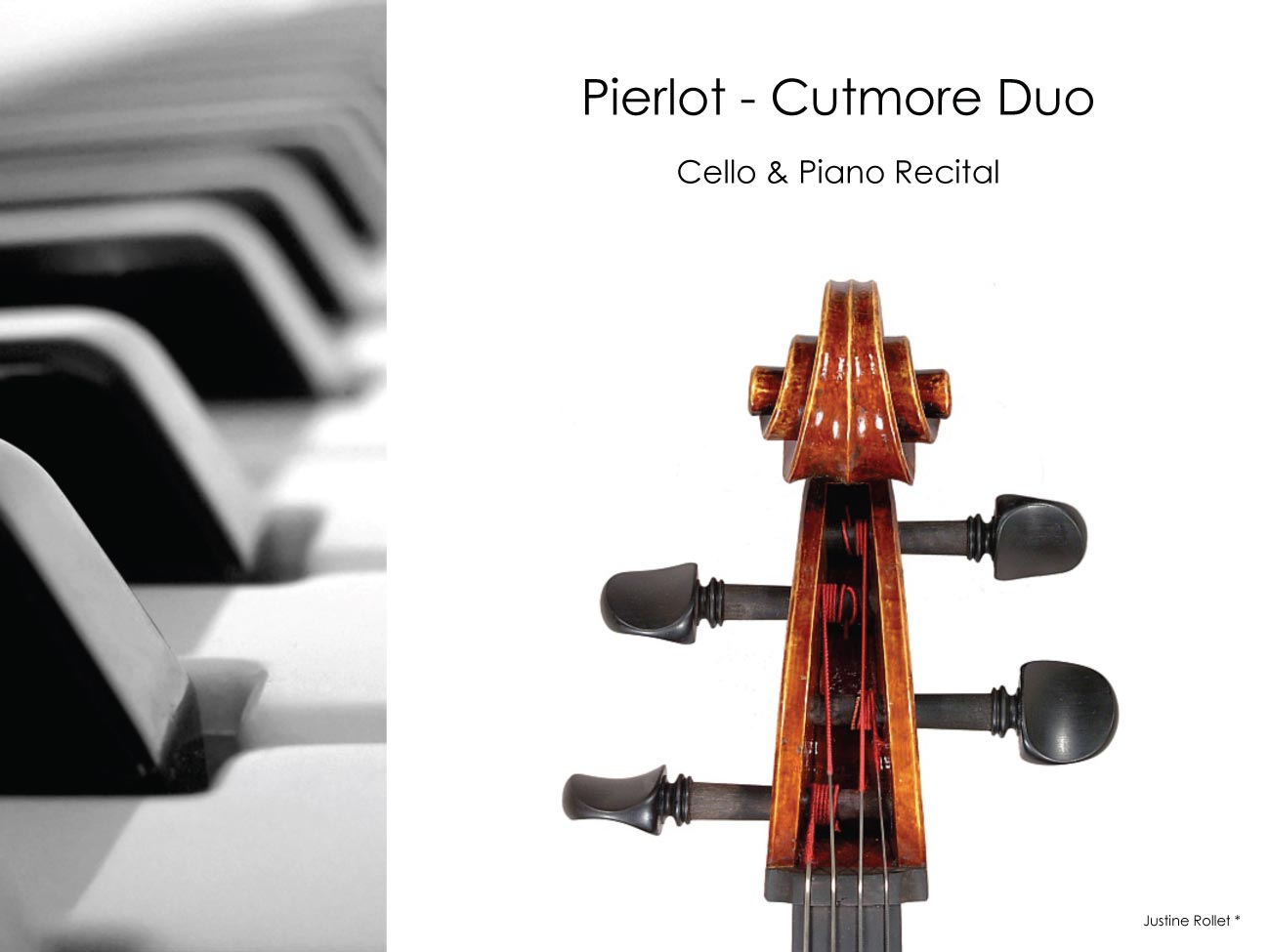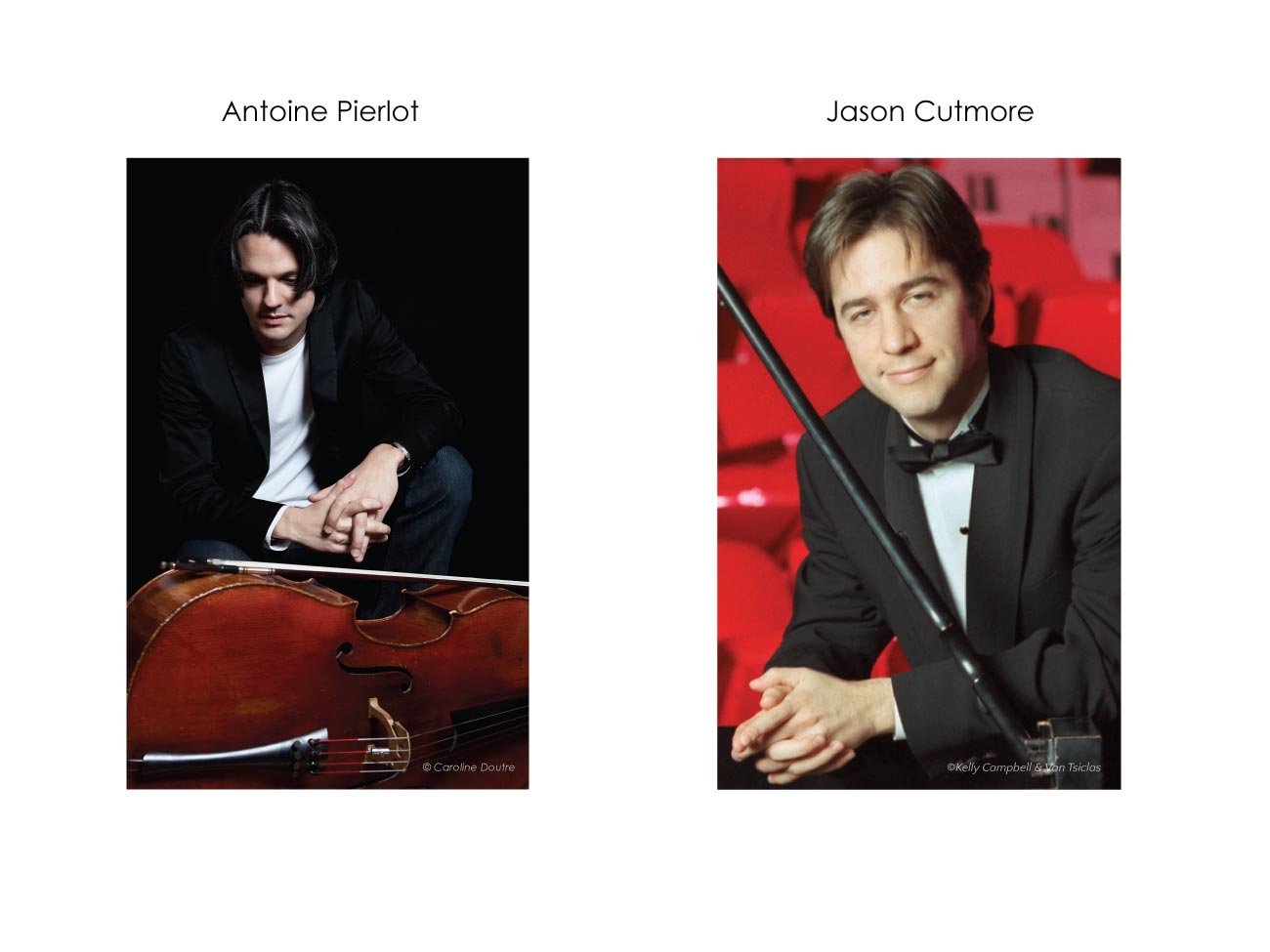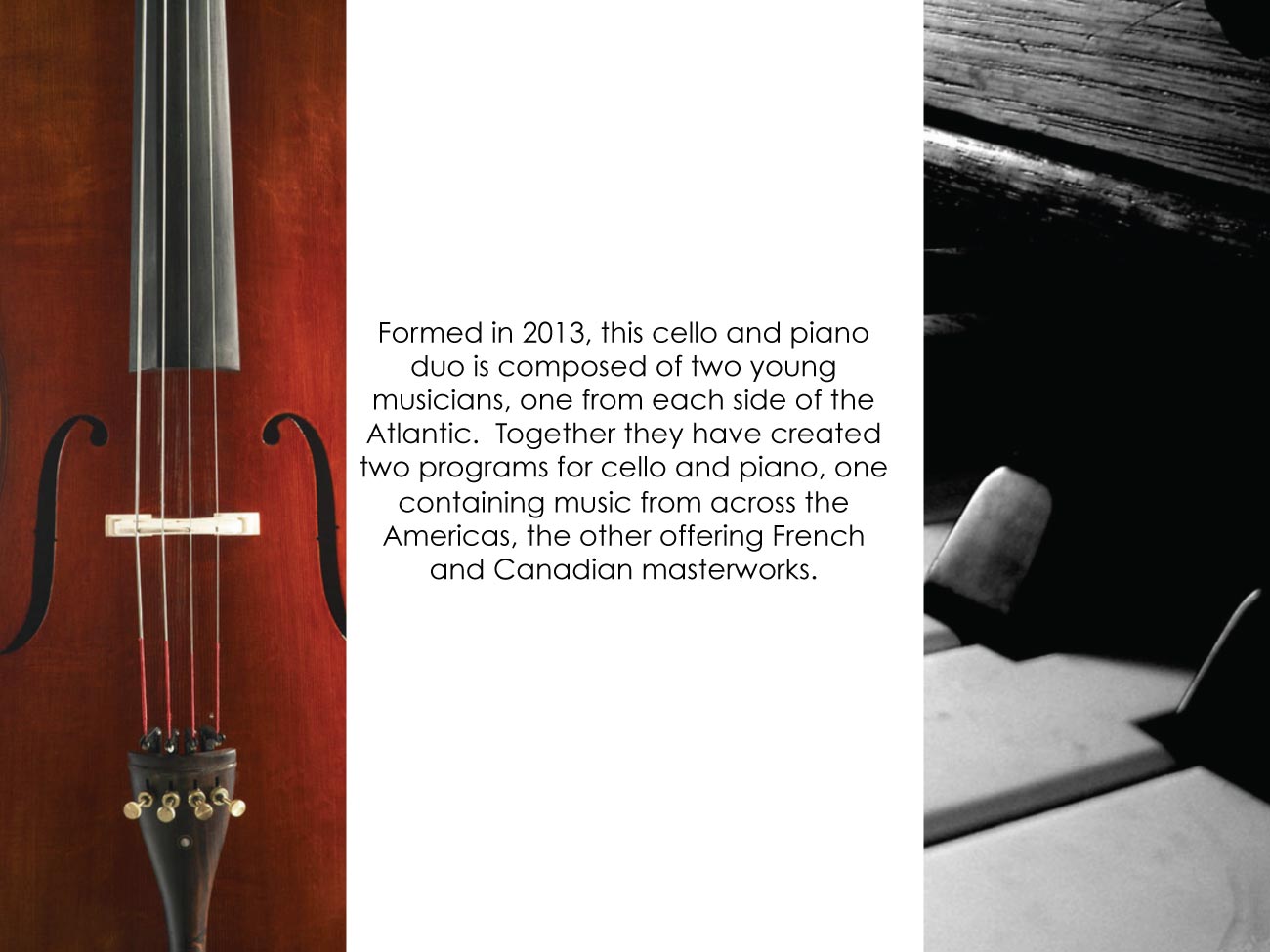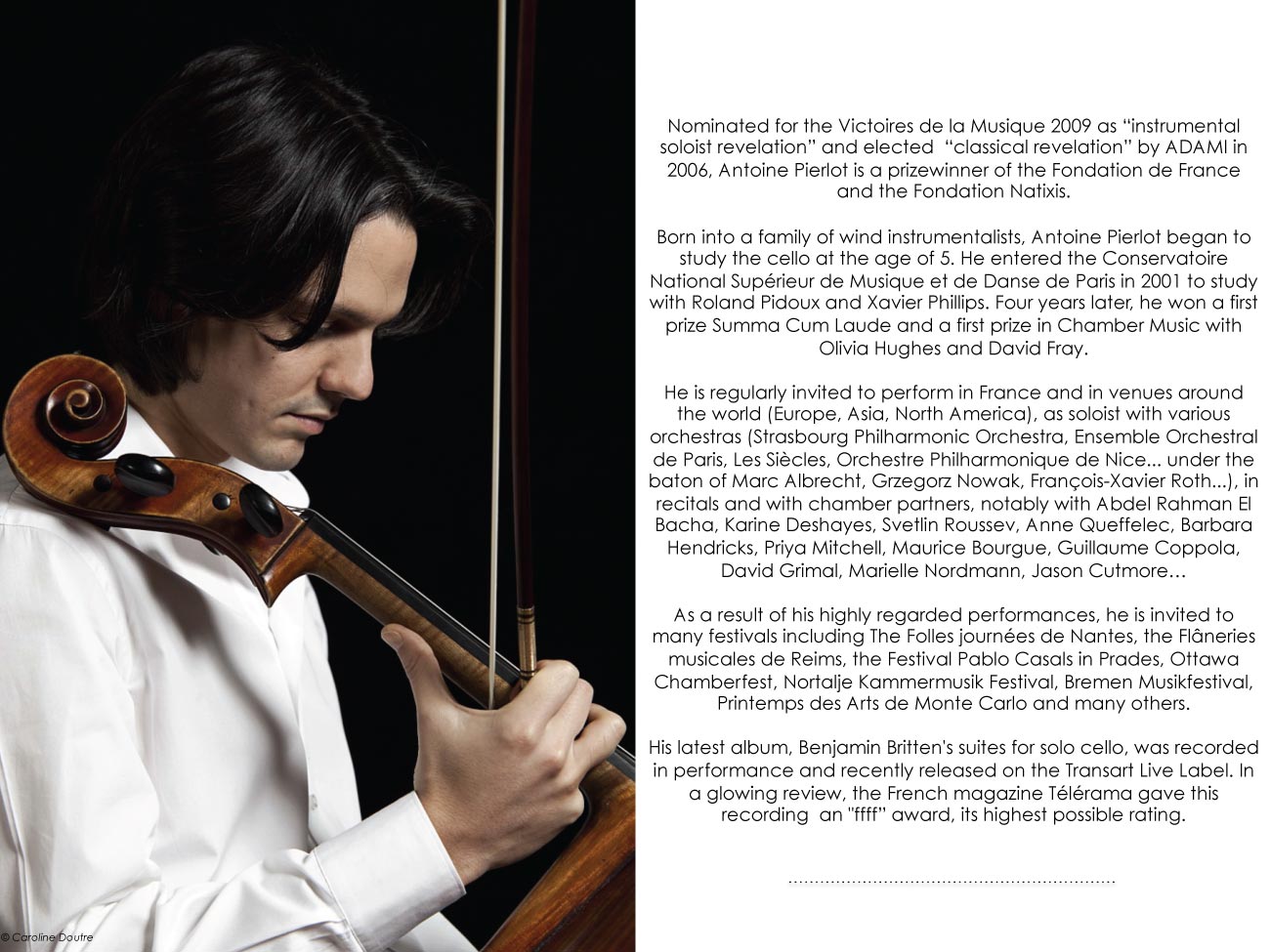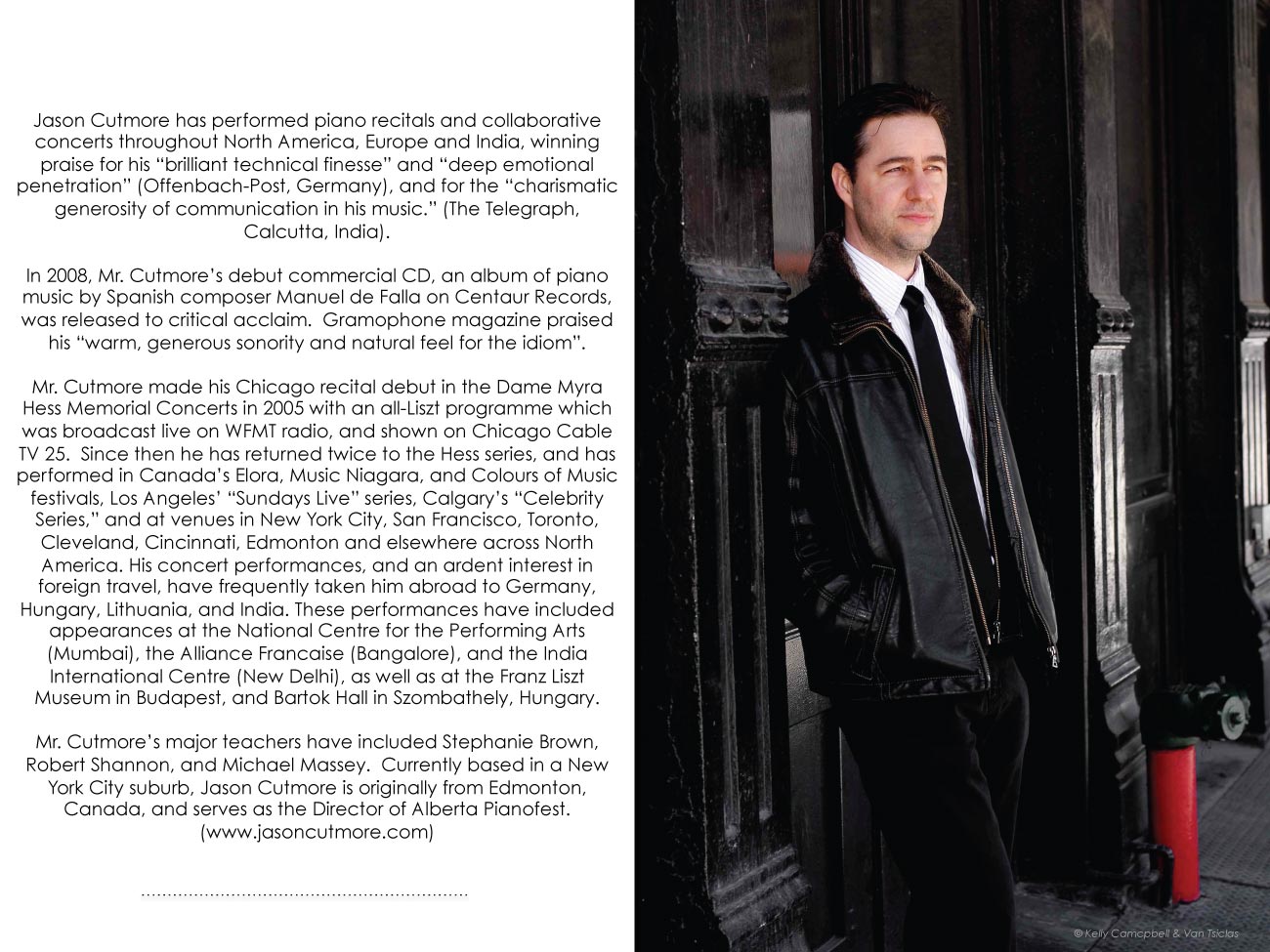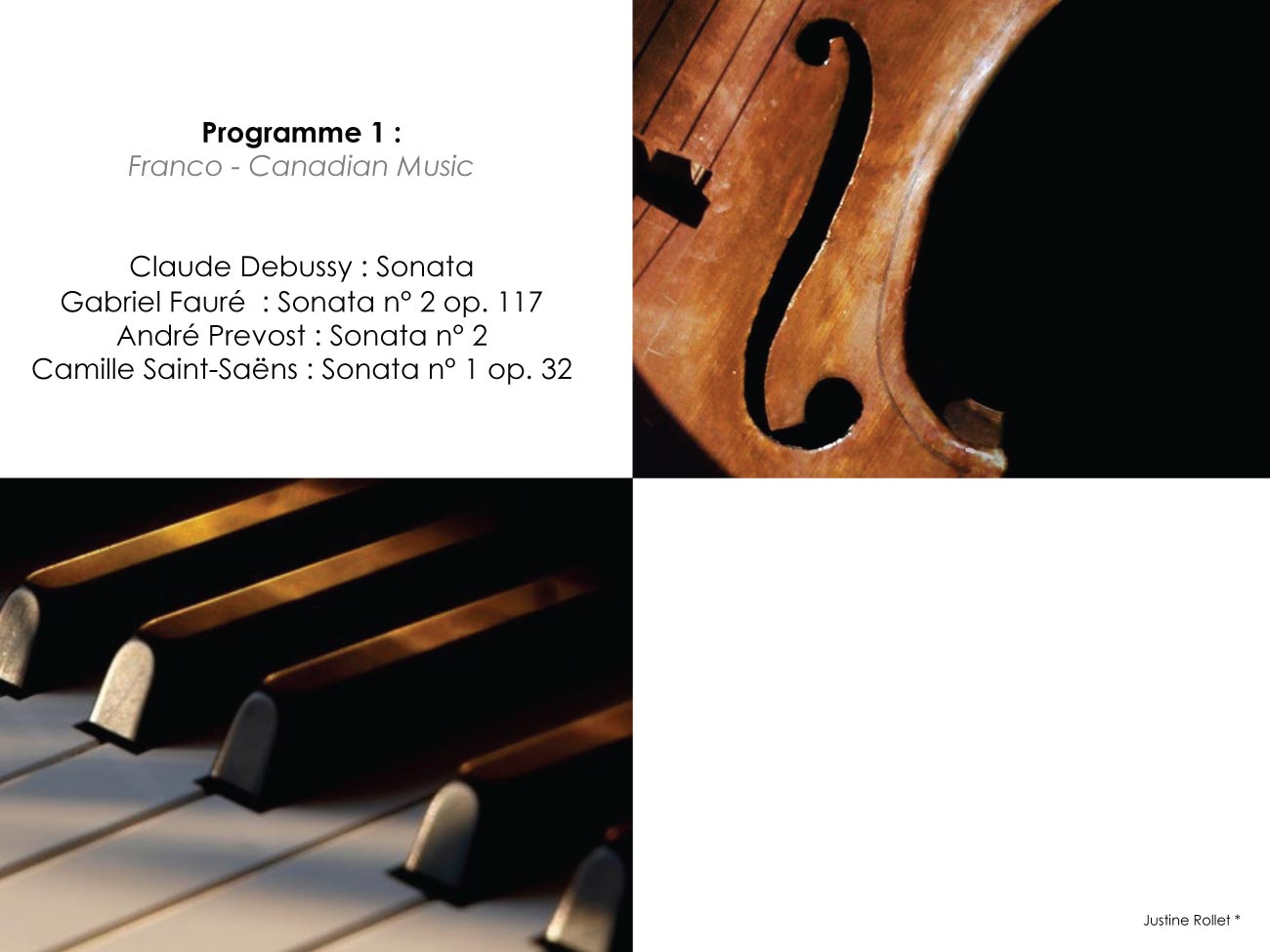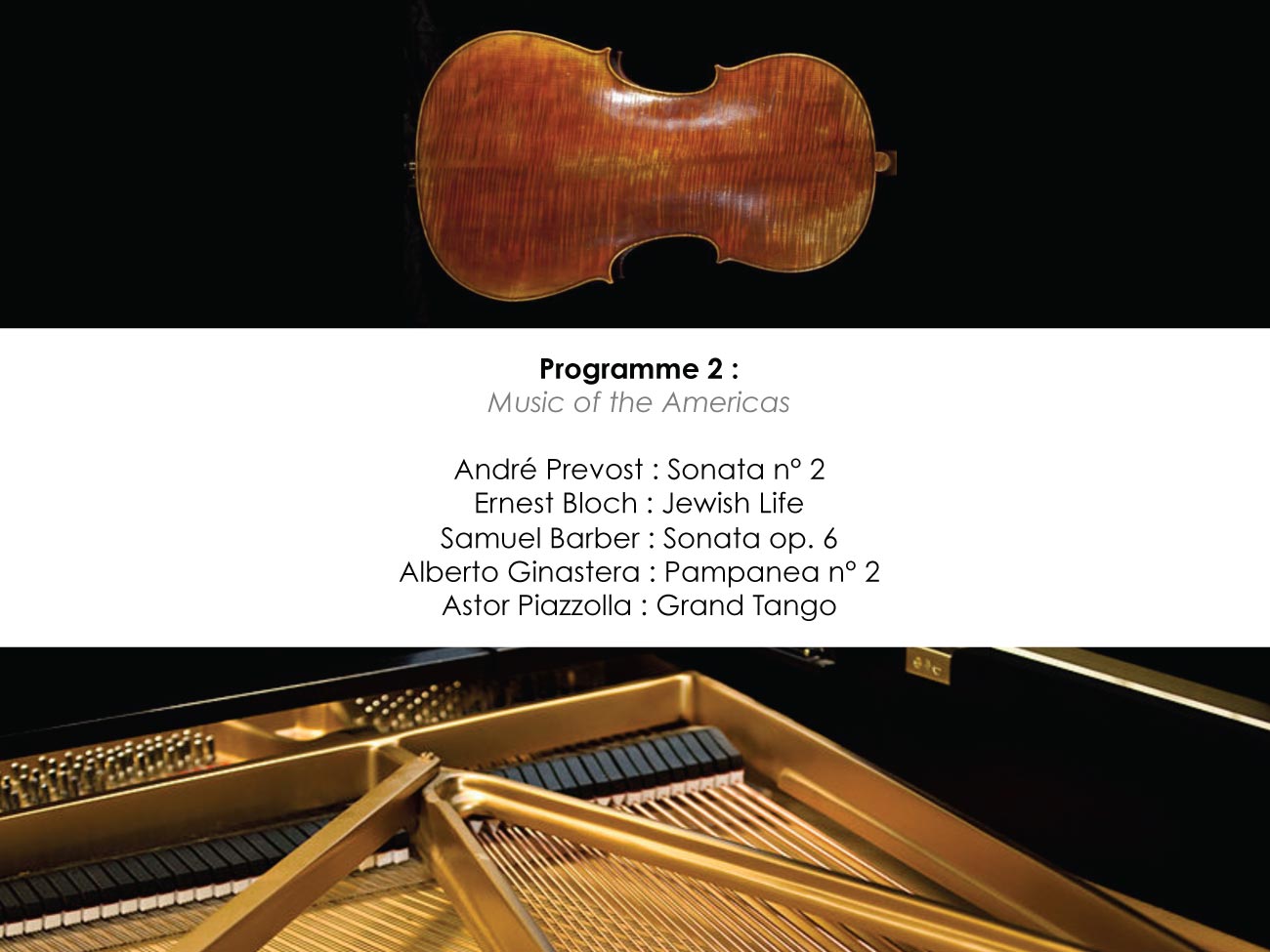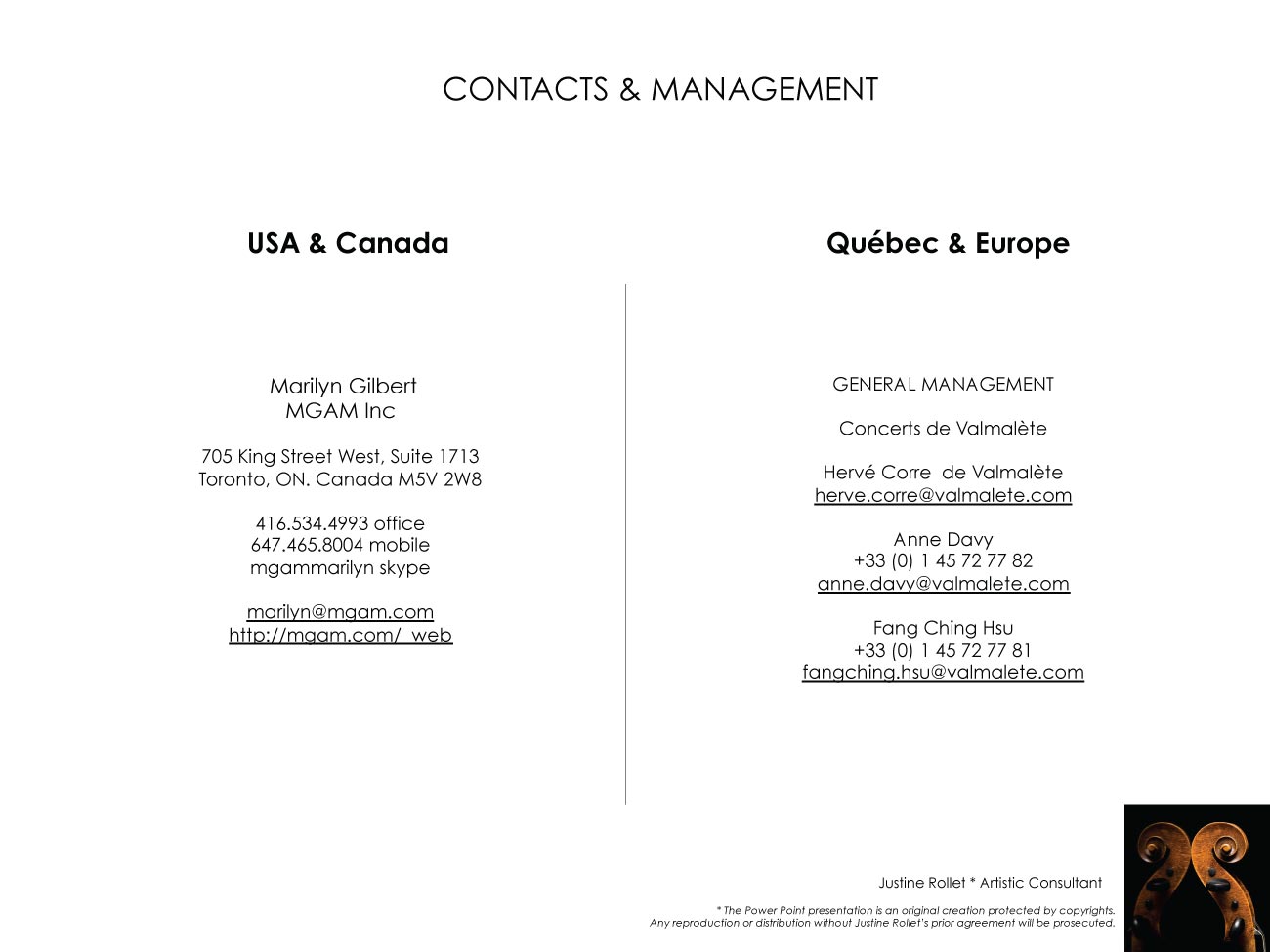 Pierlot – Cutmore Duo
Cello & Piano Recital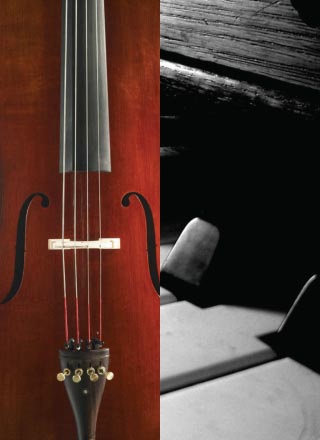 Formed in 2013, this cello and piano duo is composed of two young musicians, one from each side of the Atlantic. Together they have created two programs for cello and piano, one containing music from across the Americas, the other offering French and Canadian masterworks.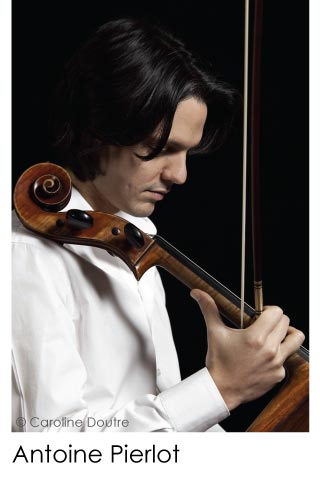 Nominated for the Victoires de la Musique 2009 as "instrumental soloist revelation" and elected "classical revelation" by ADAMI in2006, Antoine Pierlot is a prizewinner of the Fondation de France and the Fondation Natixis.
Born into a family of wind instrumentalists, Antoine Pierlot began tostudy the cello at the age of 5. He entered the ConservatoireNational Supérieur de Musique et de Danse de Paris in 2001 to studywith Roland Pidoux and Xavier Phillips. Four years later, he won a first prize Summa Cum Laude and a first prize in Chamber Music with Olivia Hughes and David Fray.
As a result of his highly regarded performances, he is invited tomany festivals including The Folles journées de Nantes, the Flâneries musicales de Reims, the Festival Pablo Casals in Prades, Ottawa Chamberfest, Nortalje Kammermusik Festival, Bremen Musik festival,Printemps des Arts de Monte Carlo and many others.
His latest album, Benjamin Britten's suites for solo cello, was recorded in performance and recently released on the Transart Live Label. Ina glowing review, the French magazine Télérama gave this recording an "ffff" award, its highest possible rating.
Jason Cutmore has performed piano recitals and collaborative concerts throughout North America, Europe and India, winning praise for his "brilliant technical finesse" and "deep emotional penetration" (Offenbach-Post, Germany), and for the "charismatic generosity of communication in his music." (The Telegraph, Calcutta, India).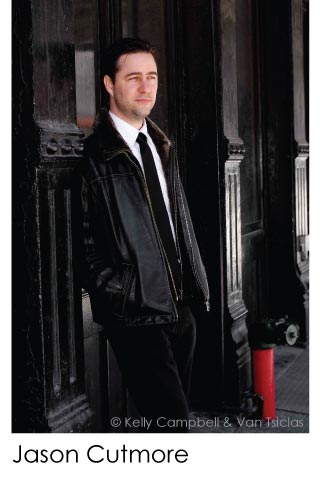 In 2008, Mr. Cutmore's debut commercial CD, an album of piano music by Spanish composer Manuel de Falla on Centaur Records, was released to critical acclaim. Gramophone magazine praised his "warm, generous sonority and natural feel for the idiom".
Mr. Cutmore made his Chicago recital debut in the Dame Myra Hess Memorial Concerts in 2005 with an all-Liszt programme which was broadcast live on WFMT radio, and shown on Chicago Cable TV 25. Since then he has returned twice to the Hess series, and has performed in Canada's Elora, Music Niagara, and Colours of Music festivals, Los Angeles' "Sundays Live" series, Calgary's "Celebrity Series," and at venues in New York City, San Francisco, Toronto, Cleveland, Cincinnati, Edmonton and elsewhere across North America. His concert performances, and an ardent interest in foreign travel, have frequently taken him abroad to Germany, Hungary, Lithuania, and India. These performances have included appearances at the National Centre for the Performing Arts (Mumbai), the Alliance Francaise (Bangalore), and the India International Centre (New Delhi), as well as at the Franz Liszt Museum in Budapest, and Bartok Hall in Szombathely, Hungary.
Mr. Cutmore's major teachers have included Stephanie Brown, Robert Shannon, and Michael Massey. Currently based in a New York City suburb, Jason Cutmore is originally from Edmonton, Canada, and serves as the Director of Alberta Pianofest.
(www.jasoncutmore.com)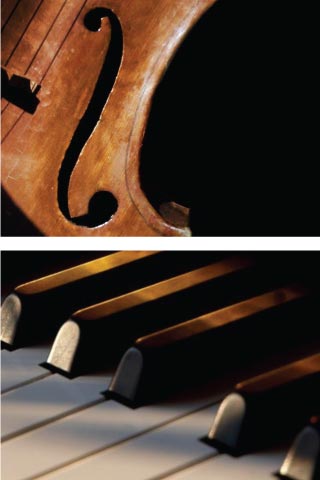 Programme 1 :
Franco – Canadian Music
Claude Debussy : Sonata
Gabriel Fauré : Sonata n° 2 op. 117
André Prevost : Sonata n° 2
Camille Saint-Saëns : Sonata n° 1 op. 32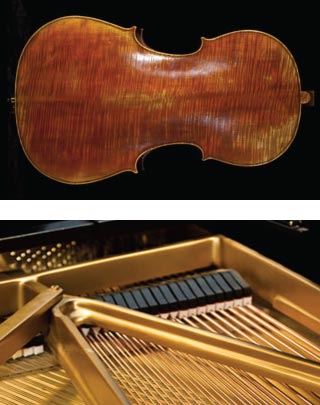 Programme 2 :
Music of the Americas
André Prevost : Sonata n° 2
Ernest Bloch : Jewish Life
Samuel Barber : Sonata op. 6
Alberto Ginastera : Pampanea n° 2
Astor Piazzolla : Grand Tango
Contacts & Management
USA & Canada
Marilyn Gilbert
MGAM Inc
705 King Street West, Suite 1713
Toronto, ON. Canada M5V 2W8
416.534.4993 office
647.465.8004 mobile
mgammarilyn skype
marilyn@mgam.com
http://mgam.com/
Quebéc & Europe
GENERAL MANAGEMENT
Concerts de Valmalète
Hervé Corre de Valmalète
hereve.corre@valmalete.com
Anne Davy
+33 (0) 1 45 72 77 82
anne.davy@valmalete.com
Fang Ching Hsu
+33 (0) 1 45 72 77 81
fangching.hsu@valmalete.com